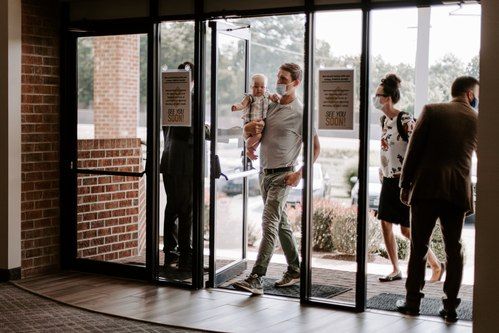 Sunday // Worship Services 9:15AM & 11AM

Monday // Celebration Service 7pm
Wednesday // Devotion Groups or Mid-Week Service 7pm
We are a multicultural congregation that welcomes everyone. We offer each member of your family a place to connect with friends. Here you can learn and be encouraged with relevant teaching and anointed preaching. We are confident that you will find each service to be refreshing and uplifting.
When you visit The Pentecostals, you will quickly find warm, friendly people committed to making your church experience enjoyable, exciting and life-changing. There are some common elements that can be found in each of our services:
You can expect to be welcomed by loving people who genuinely care about you.
We are a diverse church family where everyone expresses worship in their own way.
We have passionate contemporary music mixed with traditional favorites. You will experience a heart-felt worship service.
Truth is brought to life through in-depth Bible studies and sermons.
Whether you are new on this Christian journey and desire to have your faith strengthened or you are searching to know Jesus Christ more intimately, we anticipate getting to know you here at The Pentecostals.
In accordance with our Governor's directives, we'll be reducing our seating capacity to allow for social distancing of at least six feet between families. To make sure everyone has a chance to be in church, we'll have two Touchless Services on Sunday morning: 9:15AM and 11:00AM. For the time being, in an effort to create the safest environment possible for our church family, masks are required to be worn on campus anytime you are outside of your vehicle.

Please register for the service you and your family will be attending. There is a maximum capacity for each service, and all registrations are first come first serve.

We know that several members of our congregation have underlying health issues, and we're aware that seniors are being advised to be extremely cautious about public events. PORVA members that fall into these groups (along with others that don't yet feel comfortable venturing out into the public) are welcome to continue enjoying church online!

We're asking any households having family members that have experienced fever, coughing, or shortness of breath within the last 2 weeks to stay home and attend service online.